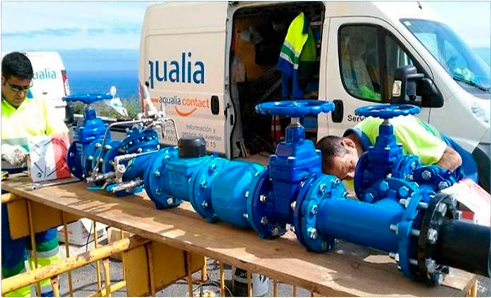 The LIFE RESEAU project begins in Moaña
Aqualia technicians have visited Moaña (Spain) with the aim of launching the work framed within the LIFE RESEAU project. The municipality of Pontevedra is one of the locations in which it will be implemented together with Odense in Denmark.
The project, started on 1st September 2021, is funded by the LIFE program of the European Commission with a budget of more than 2.8 million euros and aims to reduce by up to 100% the discharge of untreated water into the aquatic environment.
This problem is especially relevant in the Council of Moaña when intense rainfall occurs, since technicians estimate that up to 75% of the water circulating through the sewer network comes from rainwater. In addition, during these events, the combined sewer network does not have sufficient capacity to transport wastewater and rainwater to the Wastewater Treatment Plant (WWTP).
As a consequence, there are discharges of untreated water into the estuary with the consequent environmental damage to the area, where shellfishing is a fundamental economic sector.
To improve this situation, the LIFE RESEAU project will implement innovative solutions in two areas: in the WWTP, for its retrofitting and modernization, and in the sewer network, with the installation of advanced sensors. These actions will increase the capacity of the O Latón WWTP by up to 400% and reduce water infiltrations into the sewer network through the use of artificial intelligence.